Today we are going to talk about how to build your mailing list. There are two ways to build your list. You can build your mailing list organically, which means you collect emails from people who sign up for it because they want to keep in touch with you. They want to know what is going on with your writing and get updates. Or you can buy a list, which is not recommended.
DO A LIST BUILDER
I recommend doing a list builder to start. List builders are just that: they are promotions that build your mailing list. Most of the time a prize package is offered on a Facebook ad. People sign up to win the package. When they sign up, they know they are also signing up for your list. You will get a lot of drop-off at first when the prize is awarded and the builder ends, but the emails you keep are worth it. This is a quick way to build your email list so you aren't starting from zero, which can be disheartening.
Silver Empire runs list builders based around popular movies, which I think is really effective. I joined the Princess Bride list builder and we offered a prize package with a lot of Princess Bride memorabilia. People who love the movie would like my book. Out of the 3500 people who signed up, I kept around 2000 of them. Not bad at all, for $120.
Fiction Atlas Author Builders is a similar list builder service with a Facebook group and a newsletter to notify you of their popular list builders.
OFFER A READER MAGNET
There are good ways and bad ways to offer a reader magnet. Basically, a reader magnet is a lead magnet that has something to do with your book. It can be a whole book. It can be a novella. It can be a video or a checklist or any other thing that might interest your readers. In my case, it is a chapter from my book. There's a lot of discussion in writer groups about the best type of reader magnet to offer. Just offer something.
Offer it on your website. Use Story Origin or Bookfunnel to create the magnet and gather signups. I have an entire tutorial with screenshots on how to do this on my blog if you don't know how, and you can read that here.
Basically the idea is you offer a freebie, and to get it, the reader must sign up for your mailing list. Then you advertise the freebie you are giving away, in newsletter swaps (also found on Story Origin) or via ads.
My list has a steady unsubscribe rate of .3% per month no matter what, which is why I recommend the list builders. They will keep you from feeling hopeless and give you a crowd to send to right away. I also have a new subscriber rate much higher than that, so between the list builder to get you started and the reader magnet, your list should be taken care of.
BACK MATTER
Always offer a link to your website and a reader magnet for your next book in your back matter. I've heard of some people writing epilogues as their reader magnet. The epilogue is only available to those who sign up for their email list. Brilliant. This builds an email list really quickly!
So here is my back matter. It's…normal.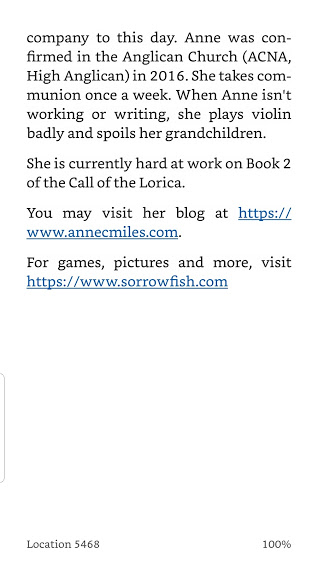 This is what everyone does. And I did it wrong. Honestly, I need to change it. It's under my "About the Author" section and people are likely missing it. It can be made stronger by moving it to the end of the actual book. I also need to add a reader magnet and promote it here, though I do mention games. I have games related to my story, and I could word this differently and use those to more effect, I think.
One author who I think does back matter really well is JA Andrews. She has a note in the end of her book Dragon's Reach that I thought was genius. The book, a prequel, ends on a cliffhanger. While she does have the normal info, the note really pushes the reader to go ahead and take one of the three options she lays out for you. Screenshots below.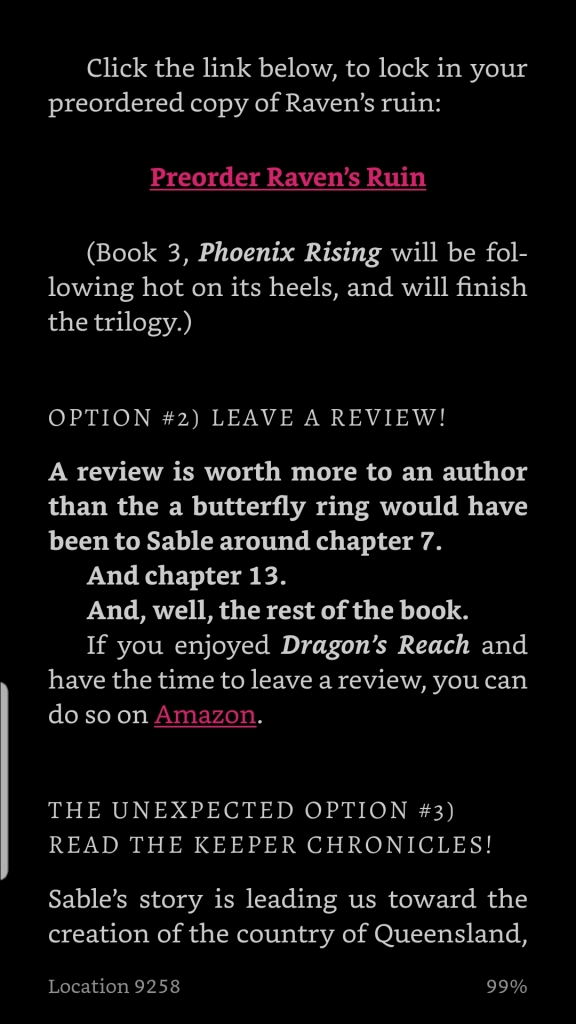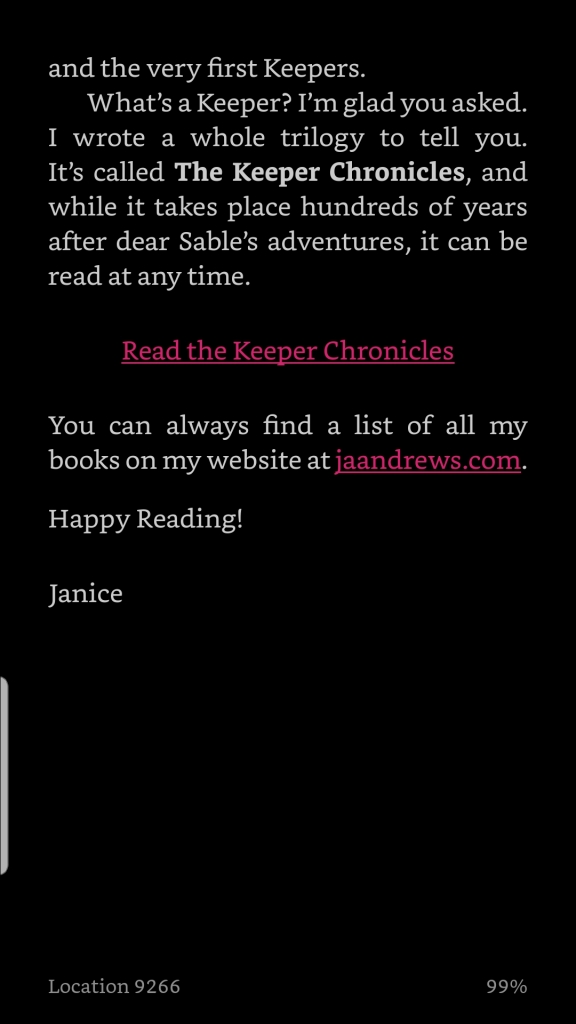 And look at how she handles her welcome email!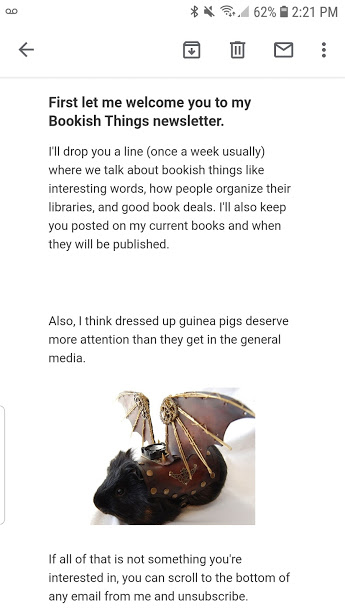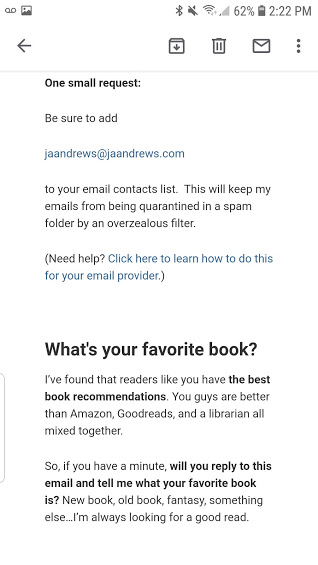 Asking readers to let you know their favorite book is a fantastic ice breaker. Email is not just one way. Yes you are sending out a newsletter, but the more reader interaction you have, the better. This welcome email breaks down that barrier out of the gate.
But now we are getting more into content. And that is tomorrow's lesson.
So there you have it, how to build your email list. Tune in tomorrow when we go into WHAT TO SAY in your emails.!
Read the first post in this series, about loving your book.
Read the second post in this series, with a general look at email marketing.